How to eat like a natural-born Wichitan
Though Wichita may now be best known as the Air Capital, its cowtown past is still very much evident in its favored restaurant fare. Yes, we have eateries specializing in Chinese, Thai, El Salvadoran, Vietnamese, French, Indian, Lebanese, vegetarian and other non-Midwestern cuisines, but there is no arguing that around these parts, beef is king. (Remember, White Castle started here.)
That having been said, the Air Capital Dispatch proudly presents its guide to Wichita-style dining. Entries marked with an asterisk have multiple locations. (Lovers of more exotic foods, see the bottom of the list. We've got you covered, even if you're not up for grilled cow flesh.)
BURGERS
Nothing, but nothing, beats a grease-laden cheeseburger and fries from a dinky Mom & Pop burger stand. Here are a few of the finest ground beef sandwiches available in the ICT.
Annex Lounge • Tucked away on the south side of Wichita (at Harry & Woodlawn), the Annex serves up delicious hot cheeseburgers and ice cold beer (no french fries, though...chips only). Nothing mind-blowing, just good honest food served up fresh.
Bill's Charcoal Grill • Quite possibly the best burger in the state of Kansas. Holding down the north end at 29th & Arkansas, Bill's uses a real charcoal fire to broil their thick, juicy burgers. The first time I went, I ordered a double— big mistake! I was full as a tick when I waddled out. French fries are the crinkle-cut variety (so-called "bowling alley fries"). Bill's is also one of the only places in town where your burger is cooked to order. Make mine medium!
Bionic Burger* • One of our fair city's local restaurant chains, Bionic Burger would be a serious contender in any hamburger showdown. Big food, reasonable prices, several locations (some with a 1950s theme). Nicest location: Central & Ridge, way out west. Least nice: Harry & Washington on the south side.
Calvin's Hamburger Haven • In business for over 40 years, Calvin's on South Seneca whips out classic-style burger stand fare at very good prices. This one-man operation sometimes has the feel of an old-time barber shop, what with the old guys who hang out there smoking and shooting the shit around the sole dining table. A fine, fine place to seriously get your grub on.
Charlie's Famous Burgers • Magnificent! From its quiet outpost on West 13th, Charlie's regularly serves up some of the Air Capital's most scrumptious burgers. Make no mistake: it's not for nothing they call the place "famous." They also recently started serving Angus beef hot dogs! You can't go wrong at this tiny burger hut.
Dog-N-Shake* • Another local chain, Dog-N-Shake has been filling appreciative Wichita bellies since before the Korean War. Their specialty: hot dogs and hamburgers served up on delicious hot butter-toasted buns. Dog-N-Shake has a few soda fountain items, too, such as cherry limeades. Look for the big orange & yellow signs at their numerous locations.
Jack's Coffee Shop • Perhaps the most enigmatic burger hideaway in the metro area, Jack's sits way down on South Hydraulic. Though it often appears to be merely an abandoned building, those who stray inside are liable to be assaulted with burgers the size of a human head. You have been warned!
Jack's North Hi Carry Out • This venerable burger stand celebrated its half-century mark last year. Located directly across 13th Street from North High School, Jack's has stuffed generations of Riverside kids with its chili-cheese gutbombs— and they still keep coming back for more. Excellent!
Nu-Way* • A Wichita tradition since the 1930s, Nu-Way is one of America's longest-lived purveyors of the elusive "loose meat sandwich." If you've never had such a beast, then there's no better time than the present. The best of their several locations is still the original on West Douglas, which used to offer curb service back in the day. Though not technically a burger, the Nu-Way sandwich is a delicious (if messy) way to fill your belly. Remember, as their ad campaign says, "Crumbly is good!"
Oasis Lounge • Friends in low places, indeed! Named by USA Today as one of America's best hamburgers in the late 1980s, the signature sandwich at the Oasis is not only tasty as hell but big as a house. Not bad for an anonymous-looking blue collar bar hidden away at Maple & West. (Towne West Mall shoppers, eschew the food court and slip on down to the Oasis for a burger and a beer!)
Southeast Carry Out • Along with Po Boy Pizza, this is the happening lunch spot for the kids at Southeast High School. Amazingly low prices, too: the famous "special" (double cheeseburger, fries, drink) costs only about three and a half bucks. Southeast recently moved from their longtime spot at Lincoln & Edgemoor to a nicer, cleaner, bigger building just south of Parklane Mall on Oliver. Don't pass this place by with an empty stomach.
Sport Burger • Southtown's "Home of the Grand Slam" is a little glass-fronted building west of Hydraulic on Harry. The storefront might appear to be more bush league than major league, but the burgers sure do pack a mighty wallop! Definitely worth a bite.
Takhoma Burger • This is the real deal— tiny, dirty, obscure, ancient and magnificent. Pronounced "take home a burger," the little white cinderblock building just west of Lawrence-Dumont Stadium (Wichita's minor league ballpark) is legendary among the city's burgerati. Not only do they have simply transcendent cheeseburgers, their special double-fried french fries are guaranteed to take you straight to grease lover's heaven. Note: Takhoma Burger's facility is so small that patrons must often place their order, then stand outside and wait. It's most definitely worth it. Look for the cool metal sign depicting a blue-dressed waitress holding a burger.
Terri's Take-Out • A relative newcomer to the carryout game, Terri's does an admirable job with its menu offerings. Always hot, always fresh, always tasty, the grub served from this little glass shack on West Douglas (kitty-corner from the original Nu-Way location) just might keep Terri's in business for a long time to come.
Timbuktu • East of Wichita lies the bedroom community of Andover; on its main drag you will find a small tavern called Timbuktu. Though from the outside it looks like a good place to get your ass kicked on a Friday night, one look inside is enough to allay any fears about the joint. Timbuktu serves simply fabulous burgers & fries, in a family-friendly environment (albeit swathed top to bottom in Budweiser paraphenalia).
Tony's Cafe (formerly Zacky's) • Way down in the city's southwest corner, directly across Pawnee from the Village Flea Market, is this small restaurant featuring not only burgers & fries, but also freshly prepared gyros. The food is always great, and the service is always friendly. When shopping at the flea market, eschew their horrible snack bar and slip over to Tony's for lunch instead.
Ty's Diner • Ty's is a jewel, nothing less. Sitting over on Second Street just a few blocks west of the river downtown, this unassuming diner never fails to be packed to the max at lunchtime. The almost ridiculously oversized hamburgers are to die for, but the star of the show is of the potato persuasion. Unless you're hungry enough to eat a bowling ball, stick to the half-order of fries— or better yet, split a full order with a buddy. Ty's has been in business since the 1950s, and I hope it never closes. Note: they also serve beer!
Walt's* • This one is a little confusing. There are about a half-dozen burger places called "Walt's" in and around Wichita, and I don't think they are all part of the same organization. However, I can heartily recommend at least two of them: the miniscule Walt's Carryout on West Street (between Maple & Douglas), and the large, posh Walt's Great American Sports Bar at Central & Rock Road (formerly the Polo Grill). Both feature outstanding burgers and absolutely primo fries, but the larger location also serves a variety of other bar-standard entrees. While the more upscale eastside Walt's has tons of room, big booths, big screen TVs and even a karaoke night (you have been warned), the tiny westside location, with its handful of stools and cramped waiting area, boasts an impressive collection of Coca-Cola memorabilia. Regardless of which Walt's location you end up patronizing, the result will undoubtedly be a belly full of note-perfect burgerage.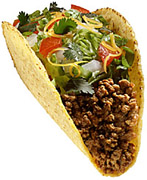 MEXICAN
Wichita has more than its fair share of delicious Mexican and Tex-Mex food, thanks in part to the countless scores of families who have migrated here to work in the meat packing plants over the years. Some of the restaurants mentioned here have been family-run for decades, and all are worthy of your time (and your appetite).
Angela's* • Run by members of the Romero clan, the handful of Angela's locations around the city offer made-to-order Tex-Mex specialties and frosty beers on the side. The downtown shop (ironically set up in the microscopic building formerly inhabited by El Patio) is so tiny that fewer than a dozen tables are able to be crammed inside, but don't let that stop you from taking in a good hot meal there.
Connie's Mexico Cafe • The quintessential Wichita family-owned Mexican cafe. Opened in the barrio in the early 1960s, this classic local joint is still run by the Garcias, though several generations down the line. King-size burritos (not unlike Popeye's forearms in girth), authentic fried tacos, delicious enchiladas and fat-ass monterreys are only a few of their scrumptious menu items; Connie's also serves fantastic desserts, including a sublime fried ice cream. ¡Olé!
Cortez Mexican Restaurant & Club • Out on the northern skirts of the Air Capital is Cortez, a cavernous supper club that seemingly never stops bustling. While the food isn't the very best Wichita has to offer, it is still quite good, and comes with excellent service, cocktails & beer, and often, live music. It's a great place to take a date— nice atmosphere, reasonable prices, non-threatening, and festive.
El Mexico Cafe • Simply put, this is Southtown's finest Mexican restaurant. The cheese enchiladas alone, smothered in a mouth-watering beef chili sauce, are enough to set your eyes rolling backward up into your forehead. El Mexico also boasts a full bar, and I can recommend the frozen margaritas from experience. One of the best taco merchants in town.
El Patio • Another family-run venture, El Patio moved a few years ago from its neutron-sized longtime location to a new spot just a few blocks west (in the old Bill's Big 6 Burger building at Central & Topeka). Though there are now a few extra tables, quarters are still tight, especially during the daily lunch crush. But the crush is well deserved, as El Patio's food is always high-quality, hot, fresh and served quickly.
El Paisa • Perhaps the most authentic Mexican joint in town, tongue tacos and all, El Paisa seems to be on a roll. The tiny little building on North Arkansas, which used to be inhabited by the late (and badly-missed) Carson's Carryout, has recently been remodeled and expanded. El Paisa is hardcore Mexican, as evidenced by the largely Spanish-speaking clientele found there pretty much any time day or night. A must for the diehard burrito lover.
Taco Loco • "Taco Loco, Mucho Bueno" reads the sign out front of this little carryout-sized taco stand (located, oddly enough, in the parking lot of Connie's Mexico Cafe). And the sign is right, though syntactically specious ("muy bueno" is better). Another restaurant with a mostly-Mexican patronage, Taco Loco offers authentic— but fast— south of the border grub. You can even sit at the counter across from the cook as he slices your steak taco meat and pours your buddy's hot pork chunks from a big tub of spicy marinade.
Taco Rio • Located at Douglas & Seneca, this Mom & Pop fast food place has managed to stay in business for years, despite vicious competition. (Not only is there a Pizza Hut, a McDonald's and a Taco Tico within a stone's throw from Taco Rio, but a brand new Subway has just mushroomed overnight right next door to it.) Set up like a typical franchise store (stand in line to order, sit down to eat), this locally-owned is a great place to grab a quick lunch when you're downtown. They even have a jukebox!
Taco Shop* • Local chain Taco Shop is probably the second-greatest taco-related success story in Wichita history (after the rise of Taco Tico, which now has stores in nine states). Fast, cheap, convenient and hella tasty, Taco Shop's food never fails to hit the spot. From the pint-sized location at Central & Oliver (in the old Sizzlin' Dog building) to the comparatively vast unit at Central & West, you really can't get better Mexican at any drive-thru in Wichita. Taco Shop also has a rotating daily special, offering a different bargain-priced meal each day.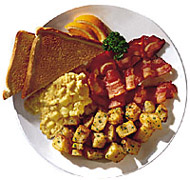 DINERS
Boy, do I love diner food. I'd rather eat bacon & eggs than just about anything else in the world, especially when served by a gum-smacking, greying waitress named Mavis. Wichita is home to a buttload of fantastic greasy spoons; you owe it to yourself to let them pump your belly full of chicken fried steak. More coffee, please...
Beacon Restaurant • Named after the vanquished foe of the Wichita Eagle (the city's daily newspaper), the Beacon is nestled right across the alley from the Eagle building on Douglas in Old Town. A favorite Sunday morning gathering place for the city's art scene to nurse its collective hangover, this roomy diner offers all the classic American fare, as well as healthier options such as cholesterol-free eggs and buffalo meat. Good coffee, and all sorts of prints and paintings (many of lighthouses) decorate the wall, some for sale.
Breakfast Club (Seneca) • Oddly, there are two restaurants in Wichita called Breakfast Club. I have never been into the one on K-42, but the one on South Seneca (at McCormick) is a regular grub stop for me and my posse. It's definitely a Southtown Experience every time you go in, but often the overheard banter of the other customers provides hilarious dinner entertainment. No frills in this joint— just good, old school diner food.
Brints Diner • Hidden from roadview behind another building, Brints is easy to pass by. But the hungry would be sadly down on their luck to do so.
Dyne Quik • Among my very favorite places to eat. Dyne Quik, like Brints, is a prefab diner from the 1950s or '60s. The difference: Dyne Quik is clean. It looks like it's been wiped down daily for the past 40 years, and is a bright, light place to get your greasy grub on. Breakfast or lunch, the food is always hot and usually fast. Cheap, too! The one drawback: no cold soda pop, only warm cans over ice. Otherwise, a champion.
Golden Bell Cafe • Way out yonder past the airport on Highway 54 (Kellogg), you will find the Golden Bell. One of the few Wichita diners that still stays open 24/7, this reasonably large restaurant is a common stop for truck drivers and urban cowboys from Western Sedgwick County. For whatever reason, there is rarely a crowd...which makes this purveyor of good cheap food almost a dirty little secret among the chicken fried steak crowd.
Jimmie's Diner • Part of the beleaguered King's X chain of restaurants (see below), Jimmie's is more or less the company's flagship restaurant. Built on North Rock Road before it was a nightmarish traffic snarl, this 1950s-style diner serves up delicious grub in a classy setting. The building's white brick exterior supposedly was resurrected from the demolition of the very first White Castle, which was founded by Wichita legend Jimmie King. Jimmie's Diner is now completely smoke-free, but worth a stop, especially if you like old-school soda jerk creations.
King's X* • How the mighty have fallen. Once a 24-hour full-service restaurant chain (with drive-in service, even!), the remaining handful of King's X stores close early these days. How many hundreds of hours of my college-dropout life I spent drinking coffee and eating omelettes at these restaurants, I shudder to contemplate. Toc's Coffeehouse (see below) is the biggest of the bunch, but all the locations (the others being Jimmie's and the units at Twin Lakes and Westway) serve up reasonably-priced, delicious Midwestern fare.
Livingston's Cafe • A Wichita tradition for God only knows how long, Livingston's was forced to relocate after a tornado touched down at Kellogg & Oliver a few years back. Now just a tad to the south and east of its old location, the cafe serves a nice selection of really good sandwiches, dinners and breakfasts. Hella good burger, too.
Stroud's Restaurant & Bar • Simultaneously more upscale and down-home than many of the local diners, Stroud's is a horse of a different color altogether. The Stroud's legend began decades ago in Kansas City, when a family turned their house into a restaurant. Pan-fried chicken, mashed potatoes, vegetables, huge chicken fried steaks, homemade rolls— the menu here is totally faithful to the regional palate. And the meals are served "family style," as well, which means they just keep bringing out the side orders by the bowlful until you say uncle. Pricier than the average greasy spoon, but excellent for a nice night out.
Toc's Coffeehouse • The biggest King's X outlet in existence, at George Washington Boulevard & Harry, Toc's is a good place to nurse a hangover. 'Nuff said.
Tony's Riverside Cafe • This place just west (and I mean just west) of the river has been around for a long time, under various names. Locals knew it for years as Dick & Jane's Riverside Cafe. Regardless of what you call it, the food is still above par (though above average in price, too) and the atmosphere is relaxed. Close to Riverside Park, too.
Town & Country Restaurant • A jewel in an ocean of concrete. When they built the T&C about a million years ago, it was surrounded by verdant countryside, with the thin ribbon of Highway 54 slicing through its front yard. Now it's hard to find the restaurant in the tangle of concrete-block buildings surrounding the Towne West shopping mall. The Town & Country is totally awesome, with an enormous menu offering everything from simple breakfasts to charbroiled chicken, steak and seafood. The average age of the patrons there seems to be about 72...those old guys are onto something. Yum!
STAY TUNED FOR MORE RESTAURANT LISTINGS, COMING SOON!!!